A No Riding Zone looks like this in your app: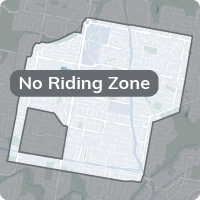 Every city also has a Ride Zone Boundary, which is a No Riding Zone surrounding the service area for that city. Penalty charges may apply for leaving your e-scooter outside the service area.
When you enter a No Riding Zone:
Your vehicle will be disabled
You will not be able to end your trip
Please push your vehicle outside the No Riding Zones to continue your ride.